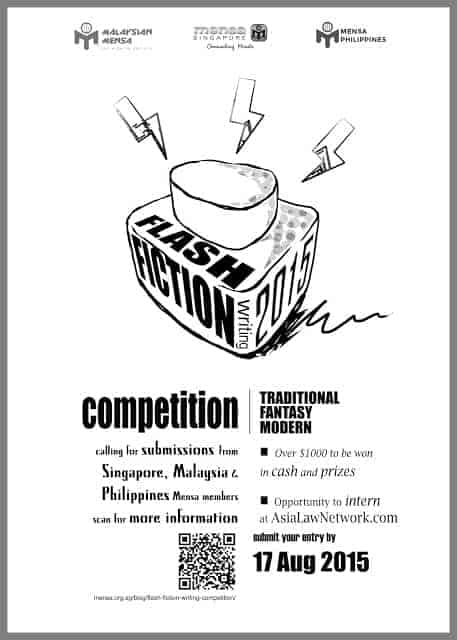 Continuing with the success of last year's inaugural Flash Fiction Writing Competition, Mensa Singapore is organizing a second Flash Fiction Writing competition for members from Singapore, Malaysia and the Philippines. This competition similarly aspires to encourage members to explore their creativity and share their ideas with other m
This competition is divided into three categories – "Traditional" "Fantasy" and "Modern" and you can submit as many entries as you like to any or all of categories.
Full details on this competition can be found at the Mensa Singapore website.
—- Prizes —-
There are two prizes in each of the three categories:
* Best Entry: S$150 + 1 year's free membership in Mensa
* Honourable Mention: S$50 + 1 year's free membership in Mensa
In addition, all winners will receive:
* A winner's medal
* An opportunity to intern as a writer at AsiaLawNetwork.com, Asia's premier professional services market place
Selected entries will also be published in Mensa's various online channels and publications!
embers through creative writing. Entries will be judged on their creativity, originality, flow and use of appropriate voice and tone, as well as awareness of, and impact on audience.