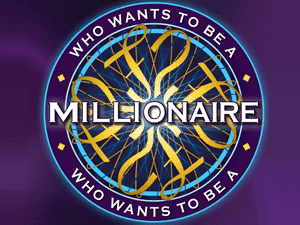 This Sunday, August 2, 2015, Who Wants to be a Millionaire, the internationally acclaimed trivia game show, will begin airing its special Genius episodes — featuring members from Mensa Philippines!
Sixteen Mensa members auditioned last May at the TV5 studios for a chance to become participants.
They went through tests and interviews and, in the end, five members were eventually chosen to get a chance to play
on the hot seat:
from left to right
Zuriel Bernardino is a pastor and church planter. He also serves as the Membership Director for Mensa.
Chris Tan is a businessman and former Mensa president. He is currently the Chairman of the Board of Mensa Philippines.
Jude Galford is a corporate communications officer, business person, and a father to two boys.
Fred Hawson is a medical doctor, avid film and theater buff, and father to three kids.
Zoe Arugay is a medical doctor and Mensa's Director for Public Relations.
The special Genius Edition of Who Wants to be a Millionaire airs at 8:00pm at TV5 this Sunday, August 2! Watch it!