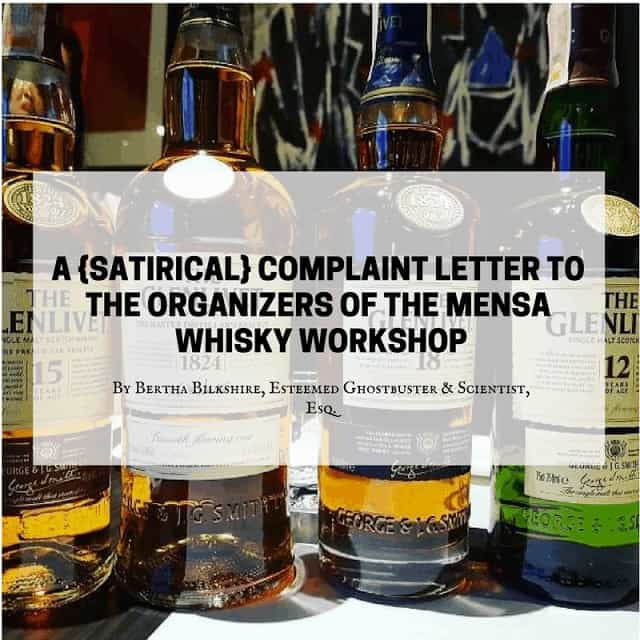 As told to Andrea Levinge
Dear Sir/Madam,
When I heard that Mensa Philippines was
going to "taste spirits", I arrived at the event at the Grand Midori
Hotel armed with a Ouija board, the sacred beard hairs of my late
great-grandmother Wilhelmina and an antique silver spoon. However, instead of
the gourmandisation of ghosts that I so fervently anticipated, I sourly
discovered that this gathering of minds was focused, instead, on matriculating
a beverage called whisky.
The evening started with Aids Tecson,
our expert lecturer, announcing we were not going to dilute the taste of single
malt whisky with that awful substance called 'solid food', but were instead
going to sip it purely for full impact. On dangerously empty stomachs, and
armed with a few more brain cells than absolutely necessary, the night began
with 11 members and non-members of Mensa in attendance.
What followed was an in-depth
presentation dissecting the differences between the single malt and blended
whiskies, and why the Glenlivet Distillery of Speyside, Scotland was chosen for
our vertical tasting. Before a taste of whisky could cross our lips, we had to
determine the precise colour of our scotch from a urologist's pee chart with
more flowery names, that started at 'gin clear' and ended at 'treacle'.
Swirling the whisky in its glass allowed us to admire its 'legs' which are not,
I am alarmed to note, bipedal appendages, but a poor jack's idea of describing
dynamic viscosity.
We first sampled the Glenlivet 12,
which tasted of sweet creamy vanilla and preserved fruit, like raisins or
plums, that lingered in the air but did not hold. This whisky is best
compared to my attractiveness to the opposite sex; like my aunts
say, 'you're just like plain vanilla dear, no wonder you can't get a
date!'.
We moved onto the Glenlivet 15 French
Oak reserve, which sang of Christmas cake spices and Madeira. As instructed, I
rubbed a drop of whisky in between my palms to dissolve the alcohol and inhale
the fragrance of the casks from whence the whisky came. Being astute at digging
up coffins in my various quests to raise the undead, I immediately named it to
be oak. Which did not impress anyone, as it was written on the bottle.
Finally we ended our age-specific
tasting with the crowd favourite Glenlivet 18. The 18 is full-flavoured, has
notes of honey, walnut and fennel and has been described by drunken online
reviewers as tasting like "an angel peeing on your tongue". I
haven't sampled urine but I shudder to think how those reviewers sourced their
inspirations. Finally we imbibed of the last whisky – the Glenlivet Master
Distiller's Reserve – which is a pleasant blend of single malts of various
years, that was indubitably smooth on my plate. That's not a typo. I was about
to say palate, but I spilled some.
Each attendee seemed hell bent on consuming
at least one dram of whisky per 30 points of their measured IQ. People were –
heaven forbid – sloshing all the different single malts together in one glass,
gleefully consuming roasted vegetables, cured meats and cheese, mixing flavours
be damned, and egging each other on to drink more and more in a manner only
seasoned debaters can achieve. Because we were provisioned for 9 more than were
present, as overachievers, it seemed only prudent that we drink for the absent
also.
I write this letter as a formal
complaint, as I am now thoroughly cursed with a lifetime of pernickety arguing
about distilling regions & terroir, not to mention backhand-slapping
complete strangers who try to mix a fine sipping single malt with a dirty Coca
Cola. In addition the dish "scotch eggs" have also betrayed me by
being so disappointingly named.
I expect your attention to this matter
immediately.
Yours truly,
Bertha