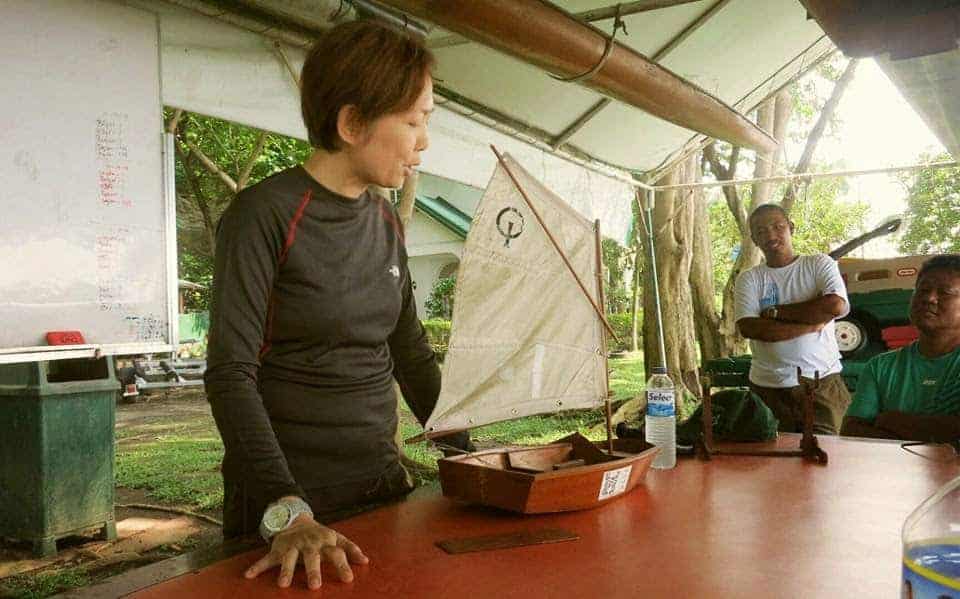 Lecture by Elle Singson
By: Lex de la Torre
"Taal Lake is not only the home of the world-famous Taal Volcano, but is also the Sailing Mecca of the Philippines."


Location: Talisay, Batangas (75km from Metro Manila)
Highlight: Nature-Based Park; Scenic view of Taal Volcano
Travel Time: 1.5 hours from Metro Manila to Taal Yacht Club
Activities: Sailing, Windsurfing, Taal Volcano Trek, Camping


Taking a break from climbing the mountains, MENSA decided to have its "Second Saturdays" Activity in Taal Lake Yacht Club to learn sailing. There is no membership required to visit the place and you can indulge in all sorts of outdoor activities – windsurfing, camping, volcano tour and of course, sailing.


Upon our arrival at the club around 9:30 AM, MENSA's own Ms. Elle Singson gave a lecture about the basics of sailing for about half an hour before we all went in the water to apply what we learned. The first lesson we applied was righting a capsized boat (righting means reversing an overturned boat, Hah, I learned something!). All of us got the chance to do this before we actually sailed.


Sailing is FUN! Who knew that the wind, even the gentlest of breeze, was such a force to be reckoned with when your sail is set and your orientation is correct. After a mere 5 minutes of personalized coaching, I brazenly got my own boat and tried to sail by myself. Our teachers, who were very far from the shore as they were still teaching others shouted that I should I wear a life jacket. Hah! I forgot safety due to excitement. I complied and thought I'll immediately be an expert. I thought wrong. I capsized several times, and I had difficulty controlling the ship. At one point, a very strong continuous gust of wind took me farther than I would have wanted.


At the end of the day, we all enjoyed the activity and recognized that we need a lot of lessons before we can safely sail away to our heart's content. We left the place quite happy for trying and learning something new.


I recommend this activity for anyone who hasn't tried it. If you're not into sailing, the Club is still a nice place to visit to unwind or have an adventure.


Fair winds to all (Sailor jargon for Good-bye)!
photo by: Zoe Arugay, M.D.