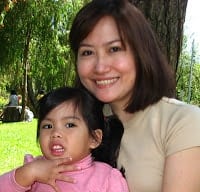 Our next Mensa Brown Bag will be on September 14 November 9. And guess what? It will be a Writers' Workshop!
Janet with daughter Anna
November's Brown Bag session will be conducted by our very own Janet Villa. Janet is a lawyer who has transmogrified herself into an award-winning creative writer (she has twice won an NVM Gonzalez Award!). She is also a language coach, a trainer, and a writing and editing consultant. She also has a wonderful blog on the English language, entitled "Using a Borrowed Language."
(She is also a past President of Mensa Philippines. So there!)
So how will the Writers' Workshop go? Well, if you're an aspiring creative writer, this will be your chance to have your works read and constructively critiqued. Otherwise, it is still a great opportunity for you to learn a thing or two about fiction, poetry or even non-fiction essays, whether or not you have a work handy. Even better, you can share your thoughts about others' works.
But you really want to have something to share to the group. I mean, why waste this opportunity to have the wordmaster herself (among others) give you pointers on your creative works?
Janet requests that those with creative works (fiction, non-fiction, poetry) that they would want workshopped should send their works in on or before November 1. This way, Janet can have sufficient time to review them before the Brown Bag.
Kindly send your works to Janet at her email address, jbvwriting@gmail.com.
Lastly, the workshop shall be held at Janet's place at Pioneer street, Pasig City. Please be there by 1:30pm. No, she won't be cooking for the group–it's a brown bag! So do bring refreshments for yourself or to share with everyone else!
Mensa Brown Bag, November Edition
Writers Workshop with Janet Villa
Saturday, November 9, 2013 1:30pm
Unit 1010, Cityland Pioneer (across HMR)
Pioneer street, Pasig City
Bring your own snacks.
Submit your creative works for review on or before November 1 at jbvwriting@gmail.com.