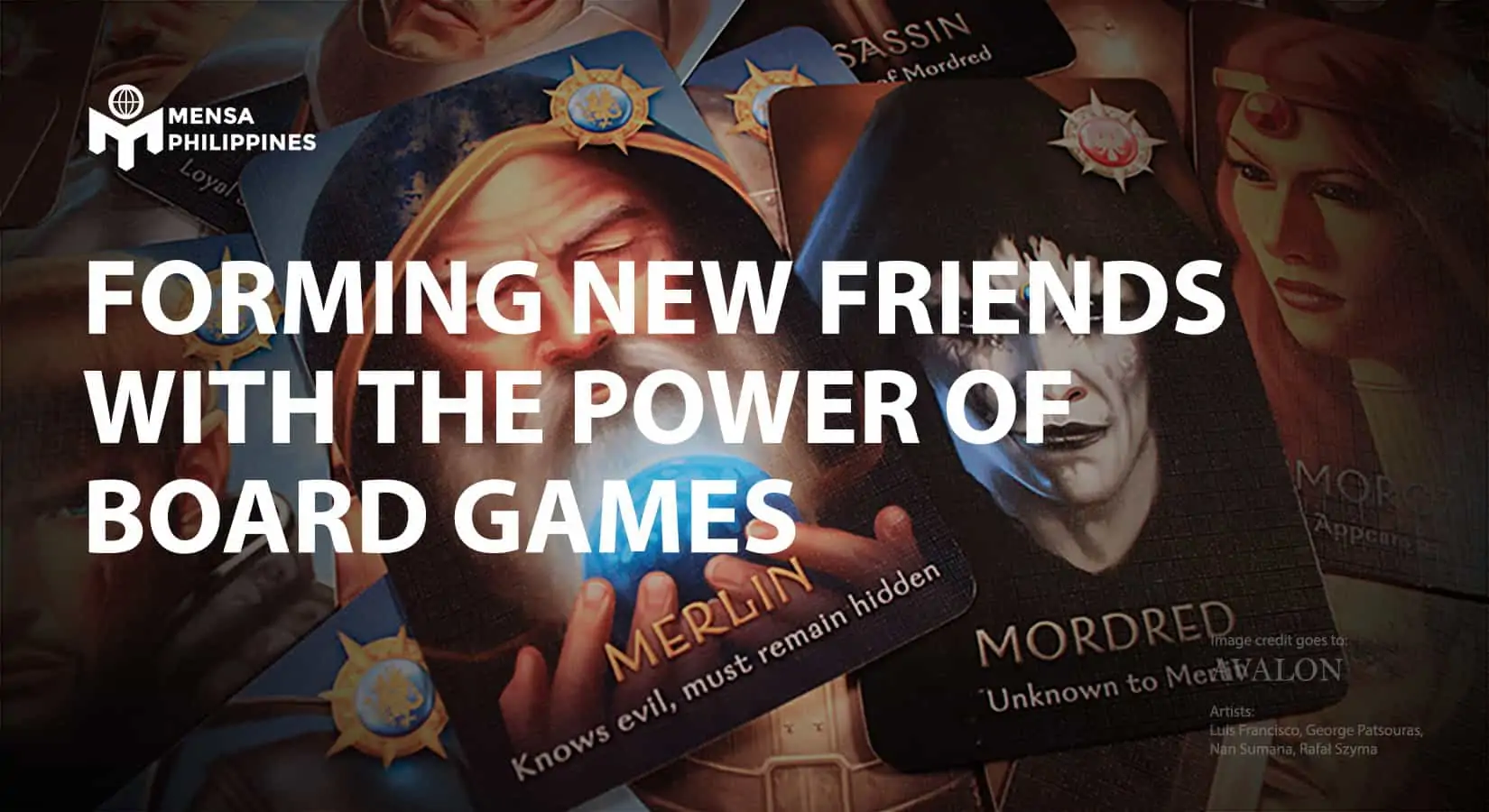 By Leopold M. Hortaleza III, Paulo Aromin, Ron Culvera, and Ted Chua
Any person gets that good feeling when engaged with a very stimulating activity. Specific to this article, this feeling includes the fun and intrigue, the fulfillment you get when improving yourself socially and intellectually, and of course, the feeling of rising up to the competition.
As for the activity, it is the mentally enticing, socially inviting board games. I say this hype because for me, my main motivation was the idea that you could apply your intellect towards something as random as social interactions. Leaving a deception here and there, or gathering all information that lead you to this one conversation you have mid-game, I think this a testament to your cunning and deductive skills. Applying calculations to social interactions inside the game, I believe that is the thrill that we have long lost in this world of computer games and Netflix.
How was the experience?
We had planned weeks before that things would go down for this date. A game where intellects would be challenged; misdirections would be thrown; different plans would unfold on themselves and turn into the most intricate origami.
Yes, it sounds like Game of Thrones.
No, gouching off the eyes of the opponent is not within the rules.
Start that clichè epic deep voices singing in unison in the background because this was it. This
game that we had planned for is called Avalon.
To start with, I arrived earlier than 2 of the other Mensan players, Ron and Ted. The first
Mensan there, Pau was already about to start their weekly D&D with his friends. I arrived early
to make sure we can invite Pau's friends to play Avalon after their D&D.
I played a short D&D quest with them to pass the time. At the same time, I was already scouting
out the competition… Or so I thought, but in reality I was just getting slaughtered in the quest.
Minutes later, Ted arrived. He brought his Dominion board game so we could play while we wait
for Ron to arrive. We had discussed to play it in case we did not have enough people to play
Avalon.
I was immediately curious about it the moment I googled it beforehand. I had never played
Dominion before. Ted taught me the game: what are the rules; how do you win. A few
explanations later and we started 1v1.
The Dominion Board Game
Dominion is a two to four player deck building game where each player competes to gain the
most number of victory points. Each player, begins with a basic deck, has one action and one
buy per turn which will help the player gain cards needed to increase his actions, treasure, and
victory points.
The game begins with ten sets of actions cards which has its own effects when used. And the
game ends when either all the province card, the card with the most victory points, are bought
or three sets of cards are bought.
The initial stages of the game is focused on buying action and treasure cards which will then be
used to augment their deck. The later stages of the game will then be focused on accumulating
victory points by buying victory cards.
Each player can form different strategies depending on the action cards they buy. Some action
cards can be used together to gain more benefit per turn. I identified three possible
methodologies to win: a competitive method, an efficient method and a fast method.
Competitive method would focus on slowing down your enemy from building a good deck. There
are certain cards you can get so you can be extremely annoying to your opponent.
Efficient method would focus on limiting your amount of cards to only high valued cards so that
whatever hand you have drawn, you'd be able to get a victory card.
Fast method would be the trickiest. This involved a very good experience into the game, making use of multiple combos so you can go through your deck every time it is your turn. This might be the best strategy but you can easily counter this at the start of the game if you are playing competitively.
Ted was playing the fast method and he was crushing me in our 1v1. We had not even got to the point where we eye each other's cards out (much like in poker). It was a one sided battle and I could see clearly the difference between our decks.
Within a few more trial and failure against Ted, minutes just flew by without me noticing it. I had a very good time thinking about the game and how to win.
By the end of our third game, I glanced at Pau's group to see if they are already finished on their D&D and indeed they are. We then proceeded to playing Avalon with 6 players.
The Avalon Board Game
Avalon is a five to ten player role playing game where players are divided into two sides — good and dark side. The game begins with each player being assigned a role and there will always be more players on the good side. The next step is where certain roles will have the knowledge of which player has a specific role, while leaving most of the other players in the dark when the game begins.
The game board will have five quests and the goal of the game is for one side to gain three quests, which is the only way for the good side to win. There are two kinds of voting done per turn, one is for the agreement of the selected players to go on a quest and the second is for whether the quest will succeed or not. It is the current player who will have the right to select the party members and the turn ends when the first voting ends with disagreement or the quest ends.
The quest will be gained by the good side when all vote is to let the quest succeed else it goes to the dark side. The dark side also has other ways of winning like they can still guess who has the role of merlin in the good side even when the good side gains three quest.
The job of the good players is to quickly figure out which players are on the respective sides. And this is done by observing how other players vote and whether or not quest succeeds. While the job of the dark side players is to confuse the good players and fail quests.
The game started with some inhibitions from the players. We did not really know each other, so
it is to be expected. However, the game exploded into the most complicated and mind bending
sequence of events. Kat, from dark side, made a blunder of giving the wrong card and all hell
broke loose. It was fairly easy to deduce who was the evil guys by assuming that they intend to
win, but due to the unexpected blunder, nobody knows what was happening in the game. It took
a very long and fun debate until they were able to deduce that someone gave the wrong card. In
that process, it was though the ice was broken by the game. Everyone had started assuming
roles and strategies right after that game. No more inhibitions. Players started throwing obvious
lies to smokescreen their future actions. A poker face, a convincing lie, a fall out guy, a
calculated decision, these were the common things all so suddenly. Everybody was having fun.
In a few more games, Ron had finally joined the group. Now there were 7 of us. Soon after, 8 of
us, since one guy from another D&D game joined us after their quest.
It was tiring and mentally exhausting, but exhilarating much like a very tough exercise. At one point, when playing on the dark side, I even managed to convince myself that I am one of the good guys and I almost gave a success card in one of the quests. Nevertheless, the mind games continued on as we get to know each other's pattern of lying and telling the truth. I guess, in a sense, this might be the fastest way to get to know someone.
We continued to play Avalon until 9:30 PM. People started to call it a day, an eventful one. Only the four of us Mensans had stayed. We switched to playing Dominion for a few more games as we got to know each other before we head home, fulfilled, socially and mentally exercised.
Meanwhile, a future board game SIG is on the works to gather more board game enthusiasts. A regular board game night is being planned for both leisure and interaction of our fellow Mensans. Designated board game cafes are being eyed as venues to have access to more board games. And if we gather enough participants, the SIG may hold board game competitions in the spirit of good friendship. Stay tuned for updates!
Interested in board and card games? Contact us in the Mensa Philippines FB page and you will be added to the group chat!