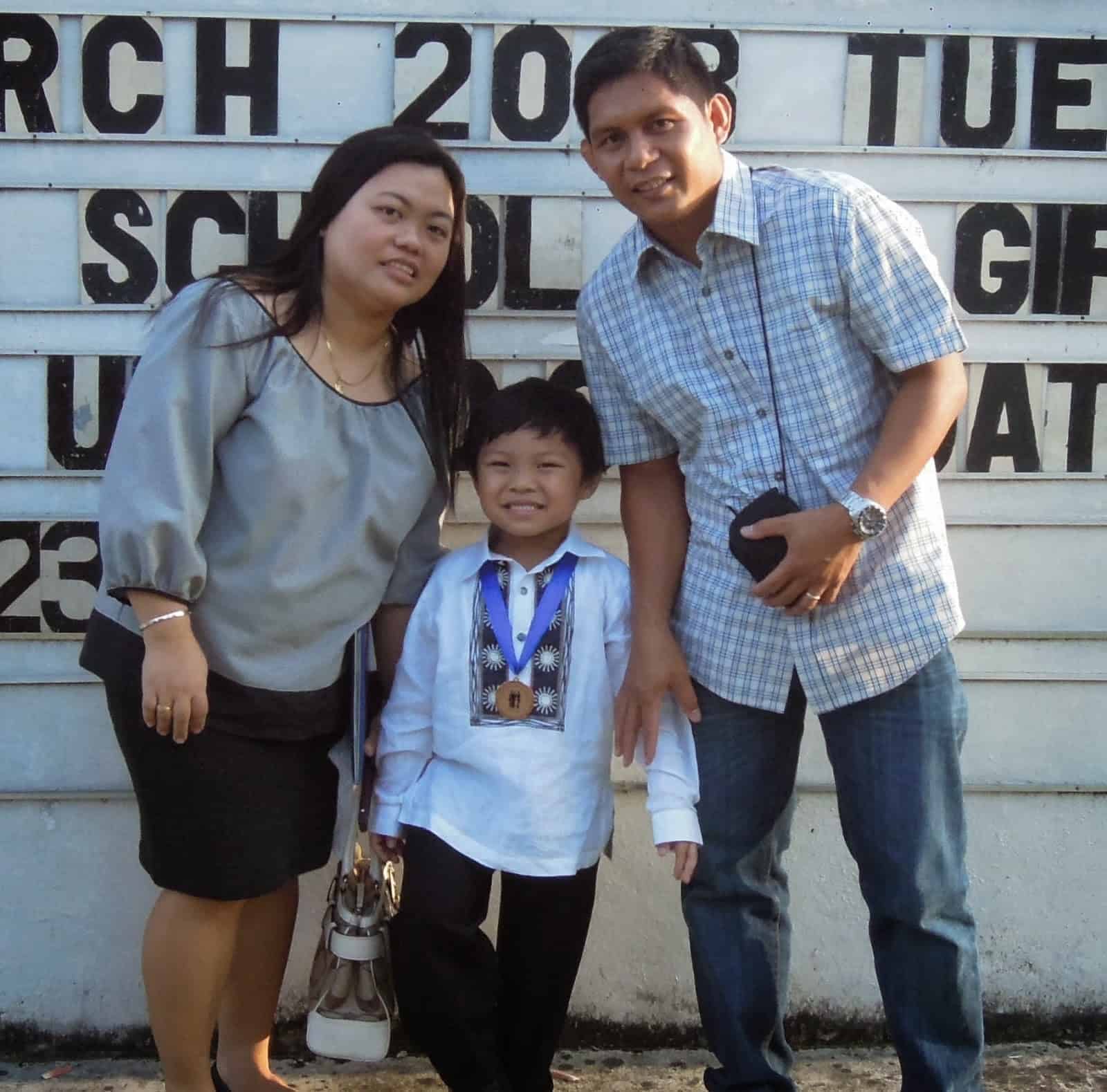 Sam, with parents Maryleth and Joel
Robert Samuel Pelingon, born in August 29, 2008, is the only child of Maryleth Musngi, a CPA, and Joel Pelingon, a businessman. He is fondly called Sam or Samboy at home and in school.
At the age of two, Sam was already able to recognize and distinguish shapes and colors of various objects, as well as do spontaneous and chronological counting of up to three-digit numbers. He seems to have a photographic memory for names of objects, colors, shapes and numbers, to mention a few.
Months before he reached three years of age, he was able to organize, disassemble and then correctly assemble his toys, such as his more than fifty train sets (Thomas the Tank Engine) in no time at all. Even without looking at the trains, he was able to remember, even up to this moment, the names, colors and the number of each train set. Solving jigsaw puzzles is, likewise, not a difficult challenge for him.
Like many other gifted children, Sam is hyperactive. He has, however, learned to do things and even multi-task in a systematic and organized manner. He almost always sets schedules for doing things, such as studying, playing, resting and watching his favorite Disney Junior shows. He reads and studies a lot and likes echoing the lessons he learned from school to his parents, grandparents and playmates. Sometimes, like a teacher, he would give test questions for them to answer.
He browses and reads the Almanac and the Atlas, which is why he could identify the flags of some 200 countries, including the names of the peoples, money, languages and continents to which they belong. Lately, he could tell a lot of things about human anatomy as well.
He enjoys playing a little bit of piano and melodica, not to mention his love for videoke singing with his dad. He spends his Saturday mornings learning how to swim and has a passion for board games.
His favorite subjects are Science and Mathematics.
He has already earned numerous awards for outstanding performance in many areas of concerns and got a medal for academic excellence.
For these feats, he was accelerated twice and, at the age of four, he has already moved up and is now in Grade 2 — the youngest in his class!