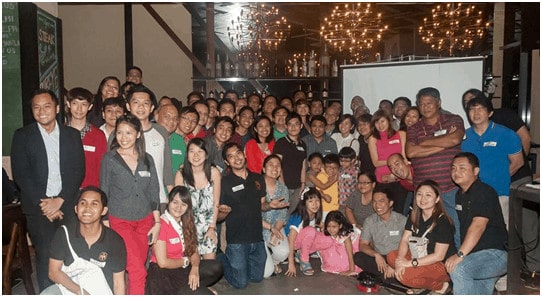 Mensa Philippines, 2014. (Photo by Jeff Sorreda)
by Arra Jeuneze D.R. Corpuz
Mensa Philippines held its Annual Gathering entitled, "hashtAG" at the Vyne in Bonifacio Global City last November 30, 2014. More than 90 attendees gathered and celebrated this event, hosted by Dr. Zoe Arugay and Earl Guico, to showcase the 22 strong years of the organization.

To start off, it began with a series of games ranging from the usual ice-breaker, 'Human Bingo', to trivia games by Dimpy Jazmines to kick-start the party. Members, new and old, have been awarded certificates to acknowledge them and to welcome the fresh members who were admitted this year. Aside from these, we also had a year-end summary of the numerous events held by Mensa throughout 2014. Not to mention, the upcoming international events to be hosted by none other than Mensa Philippines years from now; all those updates courtesy of Art Ilano and Zoe Arugay.
One of the main highlights, was the awarding for the recipients of the Dr. Rey Lesaca Achievement Awards: Joel Aldor, spearhead for "Project Kisame"; Mica Papa, Senior Correspondent at GMA Network, Inc.;
Mica Papa (L) and Joel Aldor (R). (Photo by Jeff Sorreda)
and Dr. Custer C. Deocaris, one of the recipients of TOYM (The Outstanding Young Men Award) for Science Communications. These members compose the first batch to be given the said award by Mensa Philippines for their outstanding works and inspiring stories to share to us.
And there you have it! 4 hours of fun-filled activities, fact-filled discussions, and a variety of unique individuals unifying for the success of this event; truly, Mensa Philippines has been growing through the years and emerging to become an even more established organization sharing their gift of high intellect and making the world a better place, one step at a time.
Heads up! A qualifying exam is just around the corner in early 2015. Who knows? Maybe you're another potential member and a proud addition to the friendly family/organization composing Mensa Philippines. Check www.mensaphilippines.org or facebook.com/MensaPhilippines for updates and take the upcoming examination to find out. See you in the next AG!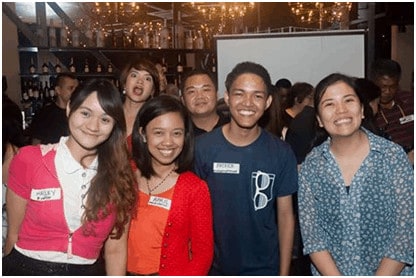 The author, Arra (L), with new friends…and photobombers. (Photo by Jeff Sorreda)