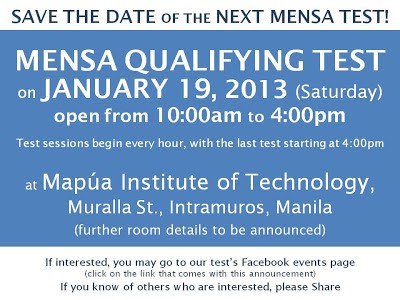 UPDATE: Unfortunately, we had to cancel the January 19 qualifying exam due to circumstances beyond our control. If you had wished to take the exam at that date, please note that the next scheduled testing date is on April 20, 2013 at the Ascott Makati, Glorietta 4, Ayala Center, Makati City. We look forward to seeing you on that date instead!


The next Mensa qualifying exam date has been confirmed! If you're interested in joining us, head on over to our Facebook events page. Don't have a Facebook account? No worries! You can also send your info through our site's registration page.
REMEMBER: Test sessions will be held every hour from 10:00am until 4:00pm (the last exam session will begin at 4:00pm).
Interested test-takers are free to walk-in anytime, but some waiting may apply depending on the time of the next test, and availability of venue seats. The Mensa test typically takes 40 minutes to complete.
Scoring in the top two percentile of the Mensa test is the only prerequisite to becoming a Mensa member.
The test fee is Php500; and test-takers should bring a valid ID with photo. Undergrad students are entitled to a discounted fee of Php300, but only if they bring a valid school ID.
Mensa Philippines also requires that test-takers be 14 years of age and above.
Best of luck and see you at Mapua!